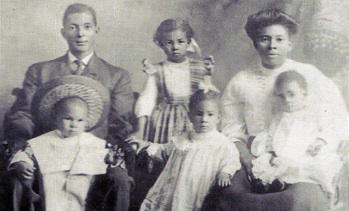 Casiville Bullard, his wife Addison and childen, Lilly (top row middle) and (left to right bottom) Casivlle Jr., Janet and Howard, ca 1908
Image courtesy of Jerry Blakey. Used with permission.
The Legacy section contains the following sections:
Descendant Interviews  Information about some of the individual workers whose memories have been preserved by their descendants and shared with Capitol history researchers.
Expert Interviews Contempoary professionals, including architect Ginny Lackovic of HGA Architects and Engineers and historian Frank May
The Capitol-Post Construction Years  Contains photographs showing the State Capitol in the years following the end of construction.
Current Restoration  Contains information and images related to the current restoration of the Minnesota Capitol building. (in process of creation)