Eric Isaacson
1905 Payroll and St. Paul City Directory, 1900 Census. Another Swedish stonemason was a man named Eric Isaacson (1860-1934). Isaacson, the son of a charcoal maker named Isak Andersson and friend of Nils Nelson, grew up in Grangärde parish in Dalarna province. Born in 1860, he was the third son in the family and he left for America in 1880 at the age of 20. He named Rush City as his destination and he may have lived there for a few years, but by 1884 he was living in St. Paul at 718 De Soto and working as a mason.
Isaacson was one of the founders of the Stonemasons Union in St. Paul, served the Local in various capacities, and led their contingent in several Labor Day parades. His older brother, Andrew, apparently lived with him there for a couple years and also worked as a mason. In 1892 Eric Isaacson married another Swedish emigrant, Jennie Carlson, and they eventually raised two sons and two daughters here. Some of their descendents still live on the East Side of St. Paul.
Information from interview with Janet and David McAllister June 19, 2012 at their home in St. Paul:  David is Janet's son.  Janet is the daughter in law of Lillian McAllister (nee Isaacson).  She is the widow of Robert McAllister, son of Lillian McAllister.  Lillian was Eric Isaacson's daughter.  Janet said that Eric broke his back when he fell from a scaffold at work.  Lillian had to quit school to go to work to help support the family.  He was working on a Butler Bros. job when this happened.  Nils Nelson was called "Uncle Nils" by the family because he married Erick Isaacson's daughter, Florence, Lillian's sister.  Nils Nelson got together with the family often.
Documents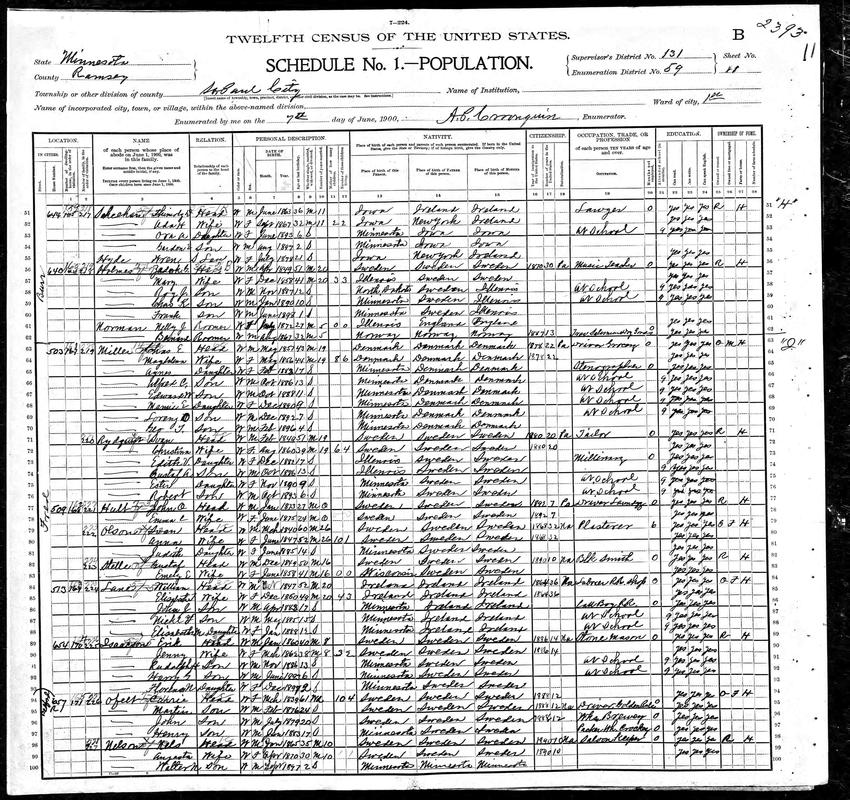 This is the first of four US Census sheets that contain information about Eric (spelled "Erik"in these census records) Isaacson. He was a stonemason who was born in Sweden. His wife Jennie, also a native of Sweden, was two years younger than he was. The couple would go on to have a total of five children. A sixth "half-brother" named Harry Anderson later also lived with them. In the 1900 Census, Isaacson was 40 years old and he and his family were living at 654 Fred Street in Saint Paul, Minnesota.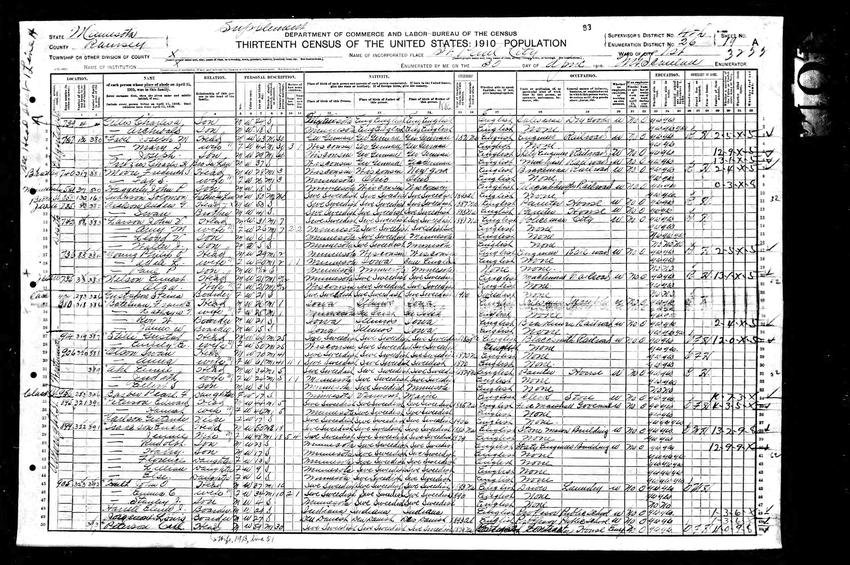 This 1910 census document describes some of the characteristics of the family of Eric Isaacson since the last US Census in 1900. Isaacson is now 50 years old, his wife Jennie is 48, and they added two more children for a total of five: Rudolph, Harry, Florance, Lillian, and Else. The Isaacsons have also moved from Fred Street to 899 Arkwright Street in Saint Paul.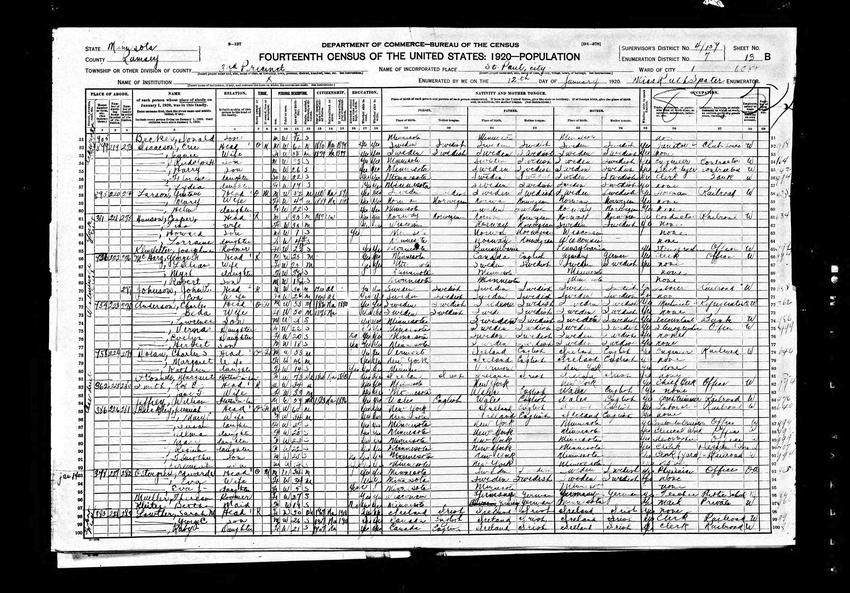 Eric Isaacson is now 60 and he and his family are still living at their Arkwright residence. Now the Census shows only four children and the name of the youngest daughter has changed from Lillian in the last census to Lydia (the age change is consistent with the age of the youngest daughter at the last census and we believe this is the same person). Eric Isaacson is now listed as a janitor, his oldest son Rudolph, 33, is an engineer and his youngest son Harry, 26, is a bricklayer. Middle daughter Florence, 22, is a clerk. All the children are still living at home.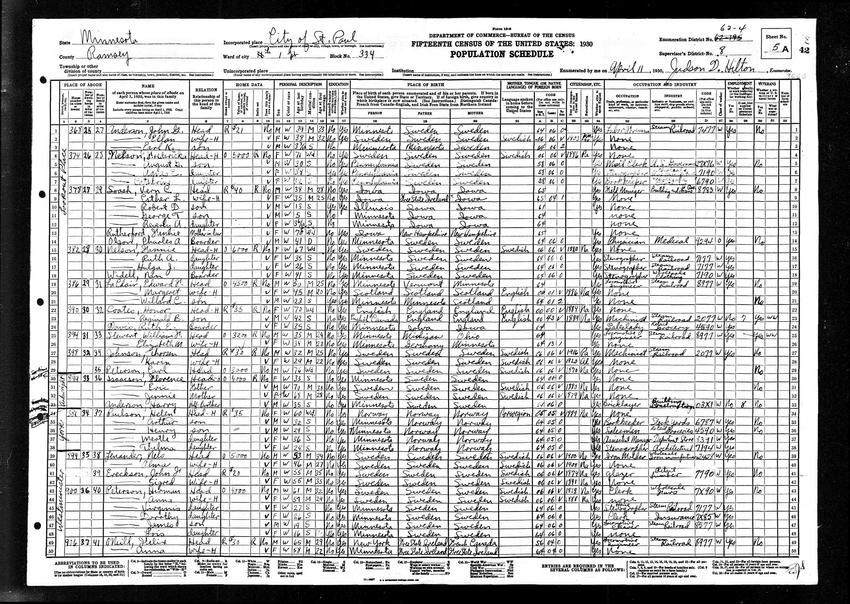 This 1930 record shows Erick and Jennie Isaacson in their later years. Erick is no longer listed as the head of household-his daughter Florence is now the head of the household. And the family has added another family member, a "half brother" named Harry Anderson who was a bricklayer and living with the Isaacsons. The Isaacsons are still living at 899 Arkwright. Erick Isaacson passed away on January 19, 1934.