Workers who died during the Capitol construction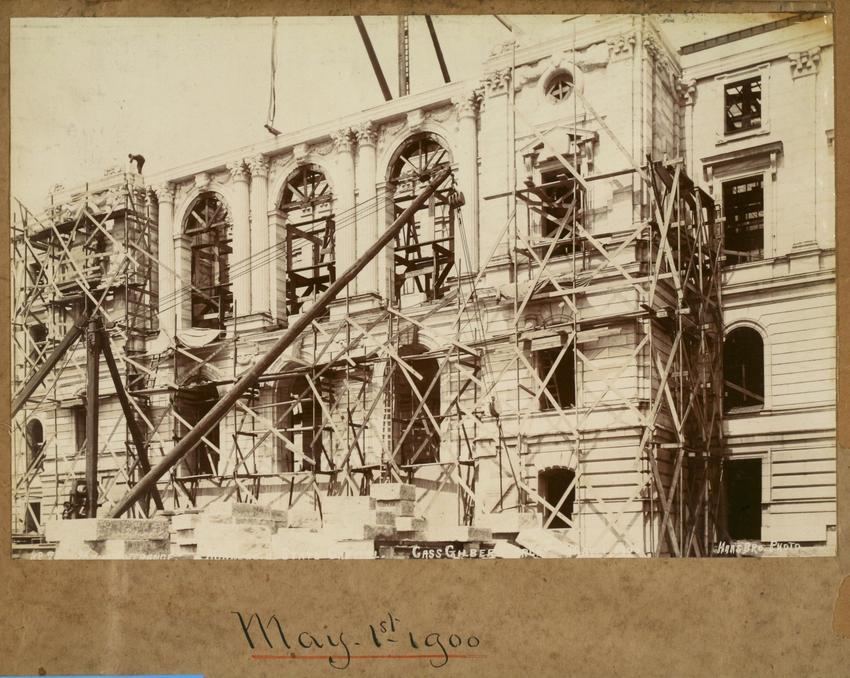 This scaffolding shows the place (upper right of photo) from which Albert Swanson fell to his death, and another worker broke his leg, when the platform was pulled down by a passing wagon. Photographed on May 1,1900, earlier on the day of the fatal accident.
Image courtesy of Thomas Blanck and Associates. Used with permission.
The Capitol construction site was a dangerous place and six men lost their lives while at work. See this chart for detailed information and sources on the workers who were killed in the fatal accidents.  Additional information on the six workers and on the dangers of worksites at the time of the Capitol construction can be found under Workplace Hazards and Fatalities pages on this website.
Felix Arthur - The first worker to lose his life was Felix Arthur, who came north with the marble shipped from Georgia. On May  5th, 1898, Felix was working on a stone polishing machine when he got caught in the flywheel and was nearly cut in half.  He was taken to Saint Joseph's Hospital in Saint Paul where he died early the next morning. Felix was only 25 years old.  His body was returned to Nelson, Georgia, where his parents were so distraught, they left the area and moved to Texas. 
John Biersack - The 36-year-old son of Bavarian immigrants to Wisconsin died in October 1898, a few days after he fell from a derrick.  John Biersack was unmarried and had no children, despite newspaper accounts to the contrary.
John Corrigan - The last fatal accident happened in 1903, when 18-year-old John Corrigan fell 32 feet near the Senate chamber. The young man, just a week or two on the job, was pushing a heavily-loaded wheel barrow across three narrow planks when it tipped over and he fell with it. Click here to view John Corrigan's death report.
Alfred Magnuson - The 23-year-old stonemason died in 1900. Magnuson, a nephew of Nils Nelson, became the fourth death on the job when he fell while setting roof trusses over the Senate chamber.  He was brought to the hospital but died four days later at the age of 23.  Magnuson, the son of Nil's older brother Magnus Jeppsson, was unmarried and he had only been in the country four years.  He was five years old when Nils struck out for America back in 1882 so he may have had some memory of his uncle and read some "America letters" from him.  His family moved around within the parish of Ivetofte during his childhood and his mother died in 1895, the year before he left for America.  Magnuson is buried in an unmarked grave in Union Cemetery in Maplewood not far from Nelsons plot.   
Albert Swanson
- Swanson, a 20-year-old mold caster from Sweden, was killed in a strange accident.  A
St. Paul Globe
headline summarized, "Passing Wagon Drives Over Rope Used to Hoist Material, and Scaffolding, on Which Men Stood, Falls."  Swanson and fellow worker Frank Thiery both plunged forty feet.  Swanson collided with timbers and died before hitting the ground.  But Thiery landed in a pile of sand and miraculously got away with only a broken leg. He checked himself out of the hospital and went home that night.
Click here
to view a set of photographs that show the exact place where Swanson and Thiery fell. 
Florian Zauner - The 40-year-old German-born laborer fell to his death in 1900.
After John Biershack's fall, these fatal accidents stirred up controversy in the newspapers about safety conditions at the Capitol site and even garnered the public concern of the Labor Commissioner and State Attorney.  Yet, four more men fell to their deaths in the following five years, not to mention non-fatal injuries.  The state could inspect sites and request accident reports, but had no authority to enforce safety rules or fine employers. Architect Ginny Lackovic, who supervised restoration work on the Capitol, oberved: "... the level of safety when this building was built was based on everybody's sense of their own judgment and their own sense of safety, what they were comfortable with... You know there was no OSHA (Occupational Safety and Health Administration), your safety was your own responsibility and if you made a mistake you paid dearly for it."
There was little financial or legal responsibility on the part of the employer or the state government for the consequences of accidents.  The costs of workplace injuries and deaths were left mainly to individual workers and their families.  Stone mason Erik Isaacson had a disabling accident in 1917 when he fell from some scaffolding and broke his back. His daughter, Lillian, who was 15 at the time, had to leave schol and go to work because Isaacson could no longer work. There was no insurance for accidents at this time.
None of the workers who were killed in Capitol construction accidents were married or had children and thus had  no direct descendants.  Their names were not collected in any one place and they were never publicly acknowledged – not until Workers Memorial Day ceremonies on the Capitol grounds in 2011 and 2012, were the sacrifices these tradesmen made finally recognized.
Cass Gilbert noted the fatalities in his daily memoranda. To see his notes click here.